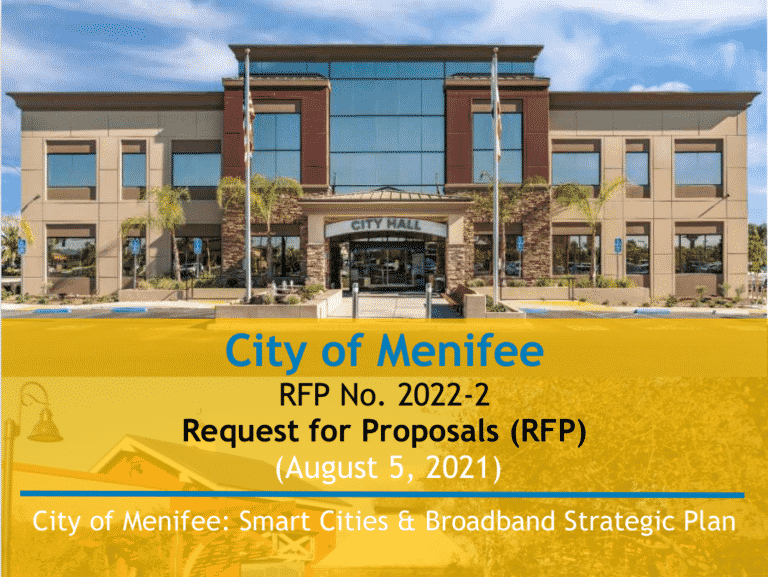 Smart City Opportunity California
Rapid technological development and innovation has created great opportunity for cities to utilize
a wide array of technology such as advanced data analytics tools to grow the economy, engage
the community, improve government efficiency, and enhance quality of life. As a young and
rapidly growing city, the City of Menifee (City) desires to develop a set of smart cities strategies
and solutions that will leverage latest technologies and tools for Menifee's future as the City
continues to grow. Integral to the City's goal to establishing smart cities strategies and solution
is incorporating a comprehensive Broadband Strategic Plan. The City views the Smart City and
Broadband as intertwined elements of a holistic approach to technological development and
intervention.
By incorporating the broadband component within the Smart City & Broadband Strategic Plan
effort, it is the City's goal to this plan will provide more information about existing public and
private infrastructure, increase coordination among City departments and external stakeholders
create a transparent process to identify and prioritize opportunities to expand broadband access,
and position the City to maximize the community benefits of future public private partnerships.
Therefore, the City is soliciting proposals from qualified professional consultants to prepare a
Smart City & Broadband Strategic Plan that will accomplish the following:
Establish a set of goals and smart cities solutions and strategies to grow the economy,
engage the community, maximize City efficiency and enhance quality of life that fits
Menifee's unique characteristics and is reflective of the community's desires and
needs.
Expand fiber access for public facilities and infrastructure to ensure continuous
connectivity and service resilience for public safety, emergency response, and other
essential City functions.
Identify broadband infrastructure currently in place within Menifee.
Identify gaps in the existing broadband infrastructure within Menifee.
Identify viable (technical and financial) options for the City to implement city-wide
broadband addressing the government, residential, commercial, and digital equity
needs identified to deliver Gigabit speed now with a roadmap to 10-Gigabit speed.
 Address the 'digital divide' by increasing high-speed internet access for low-income
and disadvantaged residents.
Improve fiber access in key commercial areas to maintain Menifee's economic
competitiveness, retain, and attract job-creating businesses, entrepreneurs and
other technology-reliant innovators.
Recommend policies, ordinances and actions to improve broadband infrastructure,
maximize utilization of existing broadband infrastructure, determine future funding
needs, evaluate options to obtain funding, and identify any other actions available
to facilitate the deployment of broadband infrastructure within Menifee.
Establish a target and metric for successful broadband deployment, which may
include Internet connection speeds, coverage areas, and/or other items developed
by the preparer of the Strategic Plan.
Identify operational areas where the City is best poised to benefit from deployment
of Smart City applications, including analysis of planning for connectivity between
City facilities and development of the Menifee City Hall.
Recommend actions to prepare the City for rapid deployment and adoption of Smart
City applications as they become commercially available.
Assist with any permit application process development, modification, or
implementation that may be necessary to implement the selected approach
Comprehensive, the Strategic Action Plan will help the City identify areas of opportunity, prioritize
desired outcomes, and anticipate and mitigate risks.
SCOPE OF WORK
The City of Menifee is seeking RFP proposals from qualified professional firms experienced in
the creation and preparation of ……………