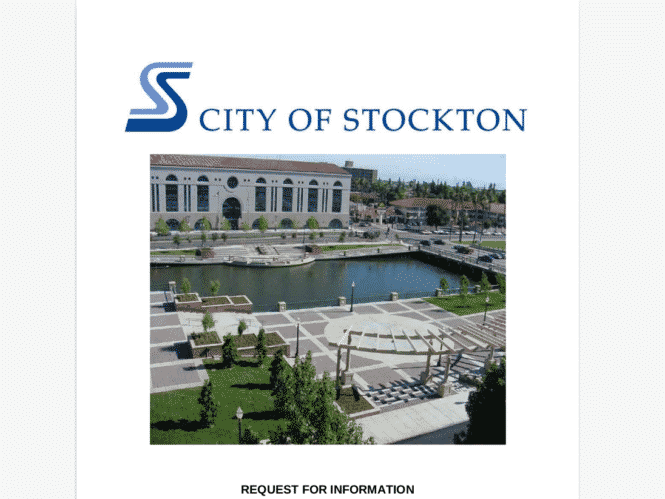 RFI — RESPONSES WILL BE RECEIVED UNTIL THE HOUR OF
5:00 O'CLOCK P.M., THURSDAY, OCTOBER 15, 2020,
1. OUR GOALS: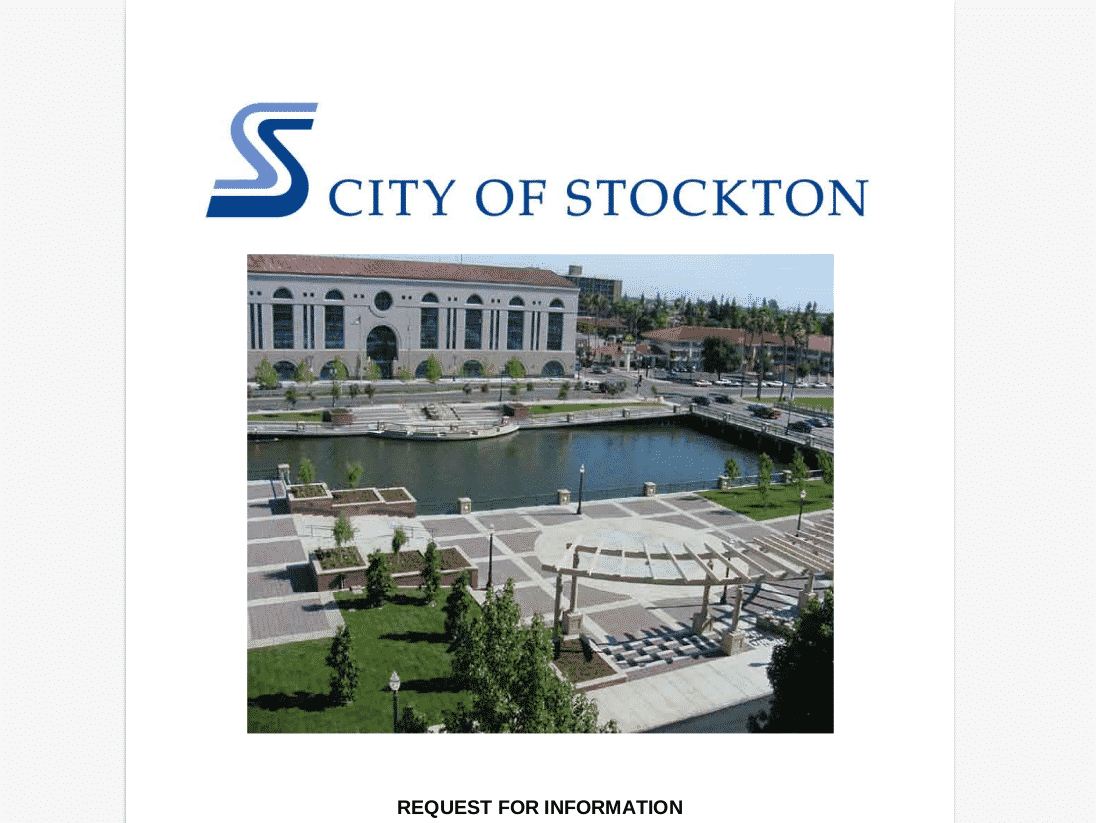 We want to make Stockton the best city in America to live, raise a family and grow a business. The future is bright for Stockton and we are accelerating change with a driven and visionary leadership team. We believe in a future for Stockton where economic growth embeds resiliency across infrastructure, public health and economic  opportunity and inclusion for our residents. There is no shortage of possibilities in the smart and connected world. Here, however, are some of the areas we are most focused on right now:
1. Increase Digital Access & Equity
We want to help more people more easily connect with the digital world by doing things such as providing ubiquitous, high quality public wi-fi.
2. Improve the Movement and Interconnectivity of People Through Our City
We want to reduce the reliance on single-occupancy vehicles, increase the safety of walking and biking and enhance the connections to the wealth of opportunities and natural beauty in this region to improve air quality and reduce vehicle miles traveled.
3. Create Safe, Accessible, Practical and Delightful Public Space
We want to provide public spaces that work for people, that provide good way-
finding, and that are vibrant places for people to come together to enjoy the vibrant
community that we are.
4. Deliver Exceptional City Services
We want to deliver the basics better than anyone, from issuing permits and business
licenses to fixing potholes and keeping our streets maintained and well lit.
5. Expand Constituent Engagement
We want to engage our residents and visitors, providing timely information when
needed, connecting people with services in new ways, and getting good feedback on
how our City can be even better on things that matter most to our residents
6. Spark Business Growth and employment
We want to put in place infrastructure that helps new and existing businesses expand
services and reach new customers. We believe the 'Green' economy is a great
opportunity for Stockton to build in resilience to our economic development.
7. Build a Platform for Learning
We want to establish a network that helps rapidly design, deploy, and improve
sensors that deliver civic value.
Across all of these goals is the overarching interest in delivering public value. We want to
hear from you how we can do just that. Consider them, but don't be limited by our goals.