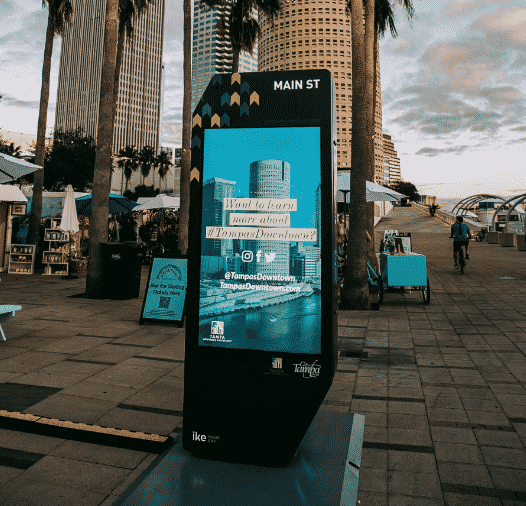 Smart City – How They Make Money & Privacy
Technocracy post on privacy concerns – original post on MassPrivatel – Worth noting new commission on privacy by Senate. Also new deployment scheduled for Houston. Then there is the NFB statement on mobile phones to consider.
Nice wrap on sixteen:nine by Dave Haynes 
New Deployment
Installation will occur in phases of 25 kiosks throughout several neighbourhoods including Downtown, Uptown, Midtown, Montrose, Museum District, Texas Medical Center, Greater Third Ward, EaDo, Upper Kirby, and more. Further, at least 10 per cent of all IKE kiosks will be located in underserved neighbourhoods, as defined by the City, including Gulfton, Sunnyside and others.
According to IKE Smart City, the kiosks put innovative technology in commercial, pedestrian-oriented areas to offer advanced wayfinding capabilities through smart city technology. Each kiosk serves as a free wifi hotspot up to 75' and is geo-located, displaying informational listings based on what's in the immediate proximity to the kiosk.
The kiosks have dual-sided digital touchscreens and are fully ADA-compliant, complete with a suite of interactive applications that drive discovery of area businesses and other local points of interest, promote diverse mobility solutions, and improve equity with 24/7 access to resources.
IKE is multilingual and includes detailed content listings of local area restaurants, shops, businesses, cultural institutions, events, jobs, and civic resources. Additionally, the kiosks provide access to social services information such as homeless shelters, addiction recovery programs, and food support.
How Does IKE Make Money?
The types of information their kiosks collect becomes a little clearer in IKE's interactive section.
The QR code will anonymously link your mobile device to the applications. If your mobile device is not capable of accessing the applications by scanning the QR code, you may access these features by providing the information requested by the Kiosk, some of which may personally identify you."
IKE claims that they will not share or sell users personal information to third parties but then the next paragraph they say the exact opposite.
"[I]n choosing to engage these features, you agree that we can provide the information you give to a Kiosk, including any information that may personally identify you, to that Third-Party Partner: (a) 311; (b) Get Around; and (c) Photo Booth."
Basically, what IKE is saying is that anyone who uses IKE's kiosks agrees to give their personally identifiable information (PII) to them and third parties. So much for respecting users privacy.
IKE goes on to explain that 311 user information is stored by Third-Party Partners.
"With respect to any feature operated by a Third-Party Partner, the Kiosk will only store the information you provide long enough to perform the service you request. After that, the information will no longer be retained by the Kiosk or IKE, but it may continue to be retained by the Third-Party Partner."
IKE's WiFi Service section says their kiosk's might "share certain technical information with the internet service provider across the Wi-Fi signal." But users shouldn't worry because IKE deletes their PII every 12 months.
This is nearly the exact same business model that "Smart City Kiosks" used in New York City three years ago, the only difference is that that IKE's kiosks are not equipped with microphones.
So how does IKE make a profit? It appears that IKE makes money from letting Third-Party Partners pay for the right to collect users PII information.
Users of IKE kiosks should be concerned about two things.
Sharing certain technical information with an "internet service provider" is a slick way of saying IKE and Third-Party Partners are IDing every Bluetooth enabled device.
The second concern is third party internet service providers are under under no obligation to delete a user's personal information every 12 months, or ever.
Things get a lot more disconcerting after reading IKE's "Camera" section.
"Each Kiosk may be equipped with one or more cameras. The cameras capture images of the area surrounding the Kiosk, and those images may include you. We will not keep any footage captured by any camera for longer than 15 days, unless the footage is necessary to investigate an incident. Furthermore, we will not use or disclose data collected by our cameras except to improve the functionality and ensure the security of the Kiosks, as necessary to address illegal activity on, associated with or perpetrated against the Kiosks or in the surrounding area, or if we believe the disclosure is required by law or in the interest of public safety."
Everyone passing in front of an "IKE Smart City" kiosk will be recorded and have their images stored for at least 15 days. Except of course if IKE or law enforcement want to save the footage, then it is anyone's guess how long they will retain the footage for.
IKE's "disclosure of information" section is basically an indemnity clause against future lawsuits.
Editors Note: Worth noting that as of Feb 2022 the Senate has a new commission on privacy
More Posts