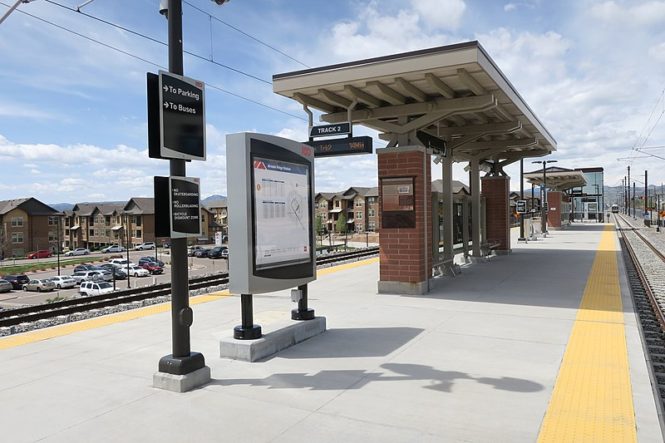 SCOPE OF WORK
Background: The City of Arvada is a first-tier suburb of Denver, Colorado, with a population of nearly 130,000 residents. The City is a participant in the Colorado Smart Cities Alliance and has developed a "mobility innovation zone" along the G-Line commuter rail corridor. The City of Arvada is interested in exploring parking technology appropriate for a business district within its suburban community: Olde Town Arvada. The City is seeking information and qualifications for parking technologies with the ability to provide detailed parking data collection, monitoring, and reporting. Arvada is planning to transition to a paid parking system in the future to manage limited parking capacity. The RFQ is intended to help the City of Arvada understand the capabilities of various technologies while sharing information with the suburban communities that are seeking similar systems.
Timeline: The City's Mobility & Planning Innovations (MPI) Division of Public Works will assemble a panel to review the RFQ responses within two weeks of the RFQ closing date. Input from Arvada Economic Development, Arvada Police, Utilities Dept., IT Services, and others will be considered. Depending on the technologies and their need to be attached to light poles, bored into asphalt, mounted on signals, etc., the MPI Division will coordinate meetings to discuss requirements and develop an agreement. Once installed, the City is offering a range of 6-9 months to test technologies, so as to ascertain the quality of the data collected, the durability of the equipment installed with Colorado's changing seasons, and the ability for the technology to integrate with the City's existing parking technologies. The data required in the City's Olde Town business district must include real-time occupancy counts, duration of stay (DOS) information, hourly/daily/monthly totals and be accessible on an easy-to-navigate back office dashboard. Innovative solutions offering mobile device friendly access to the data would be ideal.
● July 1, 2020: City of Arvada advertises RFQ and responds to questions prior to the deadline.
● July 15, 2020: Deadline for vendors to post questions. City will assemble a review panel.
● July 22, 2020: Deadline for vendor submissions. City will distribute responses to the panel for a two week review.
● August 5, 2020: Vendors will be notified if their submission will continue to be considered or not; City will provide info on next steps for vendors moving forward in the review process.
Physical Area: The scope of work (SOW) would cover Olde Town Arvada from Ralston Rd. to the North, Grandview Ave. to the South, Upham St. to the East, Yukon St. to the West, and include the City/RTD "Transit Hub" garage to the South of Grandview Ave (see map at bottom). There are nearly 7,000 total private/public parking spaces, of which 1,000 will be used for the study: 360 on-street parking spaces, 40 off-street parking spaces and 600 parking spaces in the transit hub.