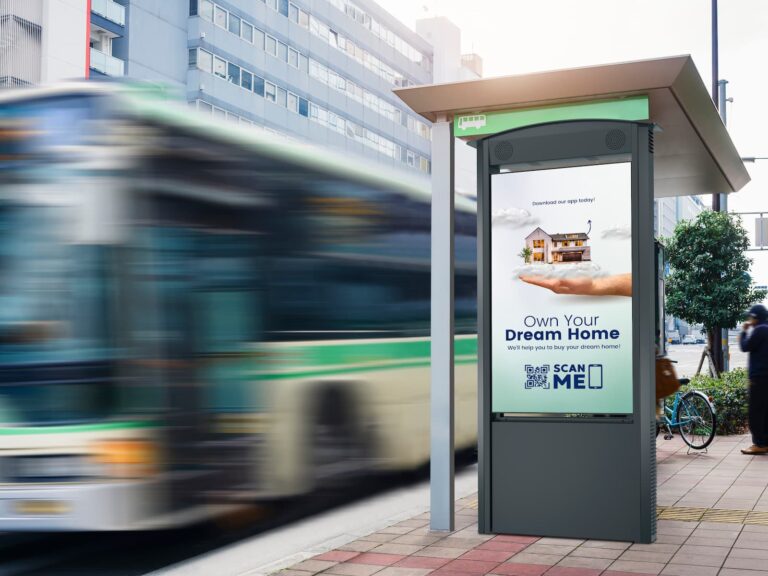 New Smart City Kiosk by Peerless-AV Announced
Introduction
Updated and new outdoor smart city kiosk by Peerless-AV released.  Good to see enhancements and the evolution of the outdoor smart city kiosk.
Smart City Kiosk projects are ongoing with many of the deployments being managed by OBM (Orange Barrel Media) with its IKE Smart City kiosks. The advantage they have is that they are low-cost since they sell digital advertising. We think the brightness on those units might have been reduced from 2500 NITS which also makes them cheaper. We have never seen IP or NEMA ratings for those units.
In Brief Summary
Two High Bright Displays back to back
Stainless steel
-31 to 140 operating temp
IP66 (no mention of NEMA)
Side Vents
Optional IR touch overlay
Wind-tested to 135 mph
Of Note — We were surprised to see zero mention of just how bright these Extreme Hi-Brights are e.g. how many NITS?  Not mentioned in the additional media coverage either. You might think a new High Bright would say how bright right?
We called into Peerless-AV technical support to find out. It took a minute or two to navigate (Press 1 for Tech Support) and a minute later a human rep (I'm guessing based in Chicago) let me know that it is 2500 NITS.  For reference 2500 used to be the standard for IKE but they have since deployed lower nit screens.  That saves money, but it is not as bright.
And thanks to Peerless-AV TS quick and speedy response!
Actual Press Release
AURORA, Ill – March 21, 2023 – Peerless-AV®, a leading designer and manufacturer of innovative audio and video solutions and accessories is pleased to announce the global availability of its new generation Smart City Kiosks. The new Single (KOP55XHB) and Dual-Sided (KOP55XHB2) models have been designed in response to customer feedback and demand.
Key upgrades facilitate a simplified installation for running power and data cabling while offering a dedicated storage space for media components. The Dual-Sided model is brand new to the range, offering increased screen space and opportunities for revenue-generating digital advertising and wayfinding. These Smart City Kiosks offer supreme versatility in a wide range of verticals, including retail, government,
transportation, and visitor attractions.
"Peerless-AV is pleased to announce that our popular, redesigned Smart City Kiosks are now available and we are already fulfilling orders globally," said Nick Belcore Executive Vice President of Peerless-AV. "The new dual-sided version is a fantastic addition to the range, enabling advertisers to tailor their digital signage content, and target and engage with a wider audience in outdoor urban environments, from airports and stadiums to bus shelters and shopping centers."
The KOP55XHB models incorporate one 55″ Xtreme™ High Bright Outdoor Display (XHB554) and the KOP55XHB2 models feature two 55″ Xtreme's, installed backto-back. The two screens can play content independently or can operate from a duplicate feed.
The Xtreme Displays offer full HD1080P resolution for a bright and crisp picture, even when placed in direct sunlight. Its fully-sealed, IP66 rated design prevents the ingress of foreign materials, such as water, dust, moisture, and insects from entering the display, and has an operating temperature of -31°F to 140°F. The displays can be enhanced with an optional IR touch overlay (KIRP-XHB4), which can detect up to 10 touch points, whether finger, gloved hand, or stylus, all in a convenient plug-and-play design.
Installation simplicity is factored into all design aspects of the Smart City Kiosks. A base cover allows power and data cabling to run upwards from the bottom center, and secure doors allow quick access for maintenance purposes. An IP55 rated media cabinet provides a spacious, enclosed storage area for AV components and integrated fans for active cooling.
The Smart City Kiosk is wind tested up to 135 mph and its stylish, stainless steel and aluminum body, combined with an outdoor rated paint finish, provides the ultimate in corrosion resistance.
The KOP55XHB and KOP55XHB2 models are now available to order in black or silver and with or without 4-inch, 100 watt, waterproof speakers. See them in action at InfoComm 2023 – Booth #1329 in Orlando, FL from June 14-16.
About Peerless-AV
Driving Technology Through Innovation
For over 80 years, passion and innovation continue to drive Peerless-AV forward. We proudly design and manufacture the highest quality products, including outdoor displays and TVs, dvLED and LCD video wall systems, complete integrated kiosks, professional carts and stands, and more. Whether a full-scale global deployment or high volume custom project, Peerless-AV develops meaningful relationships and delivers world-class service. In partnership with Peerless-AV, you are trusting an award-winning team of experts who will support your business every step of the way. For more information, visit peerless-av.com.
Connect with Peerless-AV® via social media on Twitter, Instagram, LinkedIn, Facebook, and YouTube.
Peerless-AV Corp. Contact:
Beky Cann
Director of Global PR
[email protected]
+44 1923 205 658
Media Contact:
Amanda Whited
[email protected]
732-212-0823 x409
Other Media Coverage
Real Life Example project Cherry Creek
currently include Cherry Creek here in Denver
1 – INTRODUCTION
The CCN BID is seeking a media company partner to install, operate, maintain and sell a digital kiosk network of up to 24 kiosks throughout the CCN BID neighborhood. The RFP winner will also be expected to assist in the process for City approval of the kiosk system with the CCN BID. Please note that proposals may include other forms of street furniture at the option of the vendor. If forms of street furniture other than digital kiosks are proposed, vendors must supply a narrative describing the economic and non-economic benefits to the CCN BID of such street furniture.
2 – SCOPE OF WORK
The CCN BID is soliciting proposals relating to the installation, operation, sales, service and maintenance of digital media kiosks at the proposed locations set out in Schedule A. The period of the contract awarded will be ten years from date of signing with two 5 year renewals based on economic performance and "good neighbor" standards. Vendors may propose packages that include signage at all or some of the locations listed on Schedule A and may also propose additional locations for consideration by the CCN BID. Proposals for the kiosk system must meet the following Minimum Criteria:
Be of CCN BID approved high aesthetic and structural quality
ocus on advertisers with high brand standards
Agree, at the request of the CCN BID, to eliminate certain types of advertising from the kiosks including, but not limited to, prohibitions on obscene content and tobacco
Agree to meet quarterly with the CCN BID to discuss the content approach for the signage
Agree to certain CCN BID local retail-specific content restrictions (ex: no direct competitors of key retailers or businesses may be featured on the sign) and promotions
Include a process to quickly address unexpected negative advertiser issues
Demonstrate an ability and plan to keep the kiosks cutting edge from a technological and aesthetic perspective for the term of the contract, including an upgrade plan
Demonstrate an ability to maintain industry best practices in terms of pitch, lighting and functionality for the kiosk system
Include a CCN BID based branding element on each kiosk
Include a schedule of kiosk system installation including penalties for non-compliance.
Vendor will supply a minimum 10-year pro forma projecting revenue and operating expenses for its proposal, including a revenue sharing plan with the CCN BID. All cost and labor for system installation, maintenance and operation will be the vendor's responsibility. All required property and liability insurance must be supplied by the vendor.
Worth noting that ADA compliance usually ONLY consists of reach requirement. Cherry Creek is no different and could be short-sighted on their part.
Unusual, too is the requirement that the winning vendor reimburse CCN for their consultant fees ($54K)
Smart City Kiosk Video
Outdoor Smart City Kiosks by Peerless-AV from
---
Related Posts